In case of a dental emergency that requires same day bookings, please call 08 9276 1540
ADDC FEES AND REBATES
We know how important it is that our services are affordable and accessible. We keep our fees as low as possible, and we work with a wide range of health funds, government agencies and private organisations to ensure that you receive the maximum benefit available to you. It is important to note that every patients needs are different. A quote and treatment plan can be provided on request at your initial examination.
When you visit ADDC Dental for any of our dental treatments, we ask that patients settle all fees on the day of service, as this is our official payment policy unless discussed.
Smart Choice
We work with all major insurance companies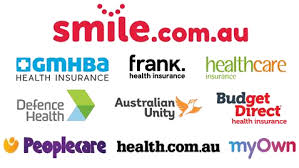 Interest free payment plans
ADDC Dental offer flexible payment options including payment plans to reduce stress in providing oral health care for patients. You could start treatment and spread the cost over easy manageable payments with No Interest Ever! The application process is easy and only takes a few minutes.
We accept Cash, Private Cheque, Health Fund Cheque, all major Credit / Debit cards, including AMEX.
Health Fund Claims
ADDC Dental is a preferred provider with major health funds. This means our patients receive the maximum benefit entitlement determind by the level of their Extras Cover – in some cases up to 90% of the cost. Please note, your health fund benefit is calculated according to the level of Dental Extras Cover you have with your health insurer, and is not set by ADDC Dental.
HICAPS
On-the-spot electronic claiming of heath fund benefits through HICAPS is available at ADDC Dental.
Government subsidies for dental treatment at ADDC Dental may be available to patients who hold a current Health Care Card or Pensioner Concession Card. It would require necessary documents from the Dental Health Services.
Child Dental Benefit Schedule
The Child Dental Benefits Schedule commenced on 1 January 2014 and provides access to benefits for basic dental services to around 3 million children aged 2-17 years. The total benefit  entitlement is capped at $1,000 per child over a two calendar year period.
Gold and white card holders may be entitled to have dental care provided by ADDC Dental subsidised by the Department.
REQUEST A CONSULTATION
PLEASE FILL IN THE FORM BELOW