In case of a dental emergency that requires same day bookings, please call 08 9276 1540
HOW TO BRUSH YOUR TEETH
Everyone knows how important it is to keep their teeth clean, but, most people actually don't know how to brush your teeth and the correct technique. Many people start somewhere and end somewhere else, but often miss many crucial areas leaving dirt and debris on their teeth. It is so important when brushing your teeth to remember a few key facts:
Establish a pattern when you brush your teeth so that you get rid of all the tarter on your teeth
Make sure you replace your toothbrush every 3-4 months as toothbrushes do not clean effectively when they are frayed and worn.
Use a soft bristled toothbrush, so it applies a nice, light force on the teeth. Nothing to abrasive otherwise it will cause your gums to recede!
Also, its important not to rush! Give yourself 2-3minutes, you can play your favourite song when doing so. This will give you enough time to clean your teeth properly.
Tooth Brushing Technique
Always start at the same place each time you brush and follow a pattern every time. This will help make sure you clean all the areas of your teeth
 Tilt your brush at a 45 degree angle to the tooth and gum so some of touches the tooth and some of it touches the gum. Use small circular movements so that your bristles can remove the tartar that is on your teeth and gums. Gently move the toothbrush in circular motions all over the surface of the teeth.
Make sure you have brushed the inside surfaces, the outside surfaces and the top surfaces of both your lower and upper teeth!
Your teeth should feel nice and clean, and that pre-brushing, fuzzy feeling of your teeth, should be gone.
Should I use a soft or hard bristled brush?
A soft bristled toothbrush is the best type of toothbrush.  A medium and hard toothbrush is not recommended as they are too abrasive and can remove some of your tooth surface when brushing. Ideally, the toothbrush should have a small head and this will allow easy access and reach to all the difficult-to-reach places in your mouth
Should I use an electric toothbrush?

There are many types of electric toothbrushes. Some of them are really well designed and backed with research and testing. Others are poorly designed and could be harmful to the teeth and gums.
When a good electric toothbrush is used, it cleans and maintains your teeth really well! Ask your dentist at Perth's best Clinic – Alexander Drive Dental Clinic what the best toothbrush is for you!
Smart Choice
We work with all major insurance companies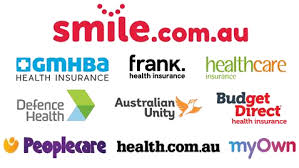 REQUEST A CONSULTATION
PLEASE FILL IN THE FORM BELOW