In case of a dental emergency that requires same day bookings, please call 08 9276 1540
What is Sedation Dentistry?
Have you been avoiding the dentist or procrastinating in booking a much needed dental appointment due to your fear of the procedure or pain? Do you have a low pain threshold? Suffer from gag reflexes? Fear the sight of needles? Or experience that crippling anxious feeling even at the thought of seeing a dentist? We have the solution for each of these unpleasant and completely normal fears that you may be experiencing.
ADDC offers pain-free and relaxed options to all your oral health requirements and our friendly anaesthetist will discuss the different options to accommodate your needs. Keep your anxiety at bay with sedation dentistry, also known as twilight, or sleep dentistry.
Sleep dentistry allows you to get one or more dental procedures, such as crowns, fillings, extractions, implants and wisdom teeth removal, completed under a deep, sleep-like state. Before your treatment begins, one of our compassionate professionals will listen to your past experiences and expectations and evaluate your individual requirements and medical compatibility to ensure the sedative treatment is right for you. Sedation can be performed on both children and adults alike.
Our Sedation Dentistry Procedure
Whilst under the attentive care and supervision of our anaesthetist and sedation dentist, the sedative induces a relaxed state-of-mind and dazed feeling to help you relax. During the treatment, you will remain sleepy, but conscious and capable of following the simple instructions our professionals give to you as they perform your dental procedure with ultimate care. The dentist assists in making your dental procedure not only stress-free, but it also contains pain relieving elements for your comfort and peace of mind. The drug will not put you to sleep, however after the effects wear off, most of our patients describe their disoriented experience as one they had just woken up from or barely remember.
A Pleasant Experience at ADDC Dental
We understand your dental checkup can cause an overwhelming and gut-wrenching feeling. ADDC aims to turn any previous negative memories you may have into a positive and painless experience. Do not let your fears prevent you from getting the dental care required to improve your oral health. We encourage you to speak to one of our friendly dentists and request sedative dentistry to assist you in the discomfort of a complex procedure or ease the multiple procedures you can achieve all in one appointment. Call our team today to discuss your dental sedation options.
Smart Choice
We work with all major insurance companies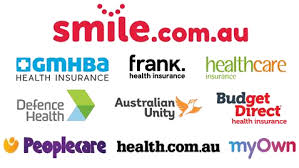 REQUEST A CONSULTATION
PLEASE FILL IN THE FORM BELOW