In case of a dental emergency that requires same day bookings, please call 08 9276 1540
CLEANING AROUND BRIDGES
As dental plaque also accumulates on the surface under the bridge cleaning around bridges is essential, people wearing bridges should use superfloss to clean the area daily.
Dental plaque accumulates underneath the bridge
Cleaning under your bridge
It is important to use superfloss to clean under your bridge.
Firstly, insert the stiffened end into the area between bridge and the tooth, then pull the superfloss until the spongy part reaches the bridge
Wrap the sponge floss around the real tooth, slide up and down to clean the adjacent tooth surface.
Gently move the spongy floss between the gum and the base of the bridge, use a soft back-and-forth motion to
remove plaque under the false tooth.
Then wrap the spongy floss around the real tooth at the other side of the bridge, slide up and down to clean the adjacent tooth surface.
Finally, slowly pull it out from the space between the tooth and the bridge.
Use floss to clean your other teeth to keep your whole mouth clean!
Consequences of unclean bridge
Every dentist in Perth and beyond confirm, that poor bridge hygiene may affect the health of the adjacent teeth and the health of the bridge itself, resulting in tooth decay and gum disease. Not caring for the bridge may mean loss of the bridge!
Smart Choice
We work with all major insurance companies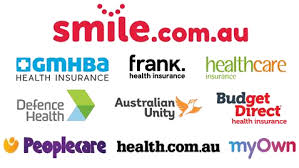 REQUEST A CONSULTATION
PLEASE FILL IN THE FORM BELOW