In case of a dental emergency that requires same day bookings, please call 08 9276 1540
ADDC HEALTH FUND PREFERRED PROVIDER
ADDC Health Fund Preferred Provider. ADDC Dental is a preferred provider with major health funds in Australia. This means our patients receive the maximum benefit entitlement determined by the level of their Extras Cover – in some cases up to 90% of the cost. Please note that your health fund benefit is calculated according to the level of Dental Extras Cover you have with your health insurer, and is not set by us. This can be clarified when you contact your health insurer.
If you have private health insurance with ancillary cover, chances are you can get free or low-cost preventative dental care – a great way to avoid high costs later on.To get the most out of your health insurance dollar, take advantage of any dental healthcare provided by your insurance company. If you're with another health fund, ask what free or reduced-cost preventative dental care you can get. If the answer is nothing, consider moving your ancillary cover to a company that funds it.
Smart Choice
We work with all major insurance companies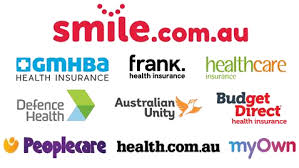 All of our dentists are included on the Member Plus Providers of HBF. It means you can reduce your out-of-pocket expenses by claiming dental services for up to 90% benefit. Patients can receive a fully covered scale and clean per member per calendar year depending on the level of their Essentials cover held. For more information, please visit the HBF website.
All of our dentists are included on the Member Choice Network of Medibank. When you have Top Extras covers, you'll get one free dental check-up, scale and clean (doesn't include x-rays) per person per calendar year – valued at over $130 – when you visit a Members' Choice dentist. For more information, please visit the Medibank website.
The Dental Choice Network is a group of dental service providers who have committed to reducing or removing the gap for selected preventative dental services that you would usually pay between the dentist's charges and the CBHS benefit. As all our dentist participates in the network you will have no out-of-pocket expenses for these selected services.
CBHS members with Prestige, LiveLife, Step-up, KickStart, Top Extras and Overseas Visitors Cover are completely covered but not limited to selected preventative dental services, including check-ups, scales, cleans and fluoride treatments at any CBHS Dental Choice Network Provider.
REQUEST A CONSULTATION
PLEASE FILL IN THE FORM BELOW